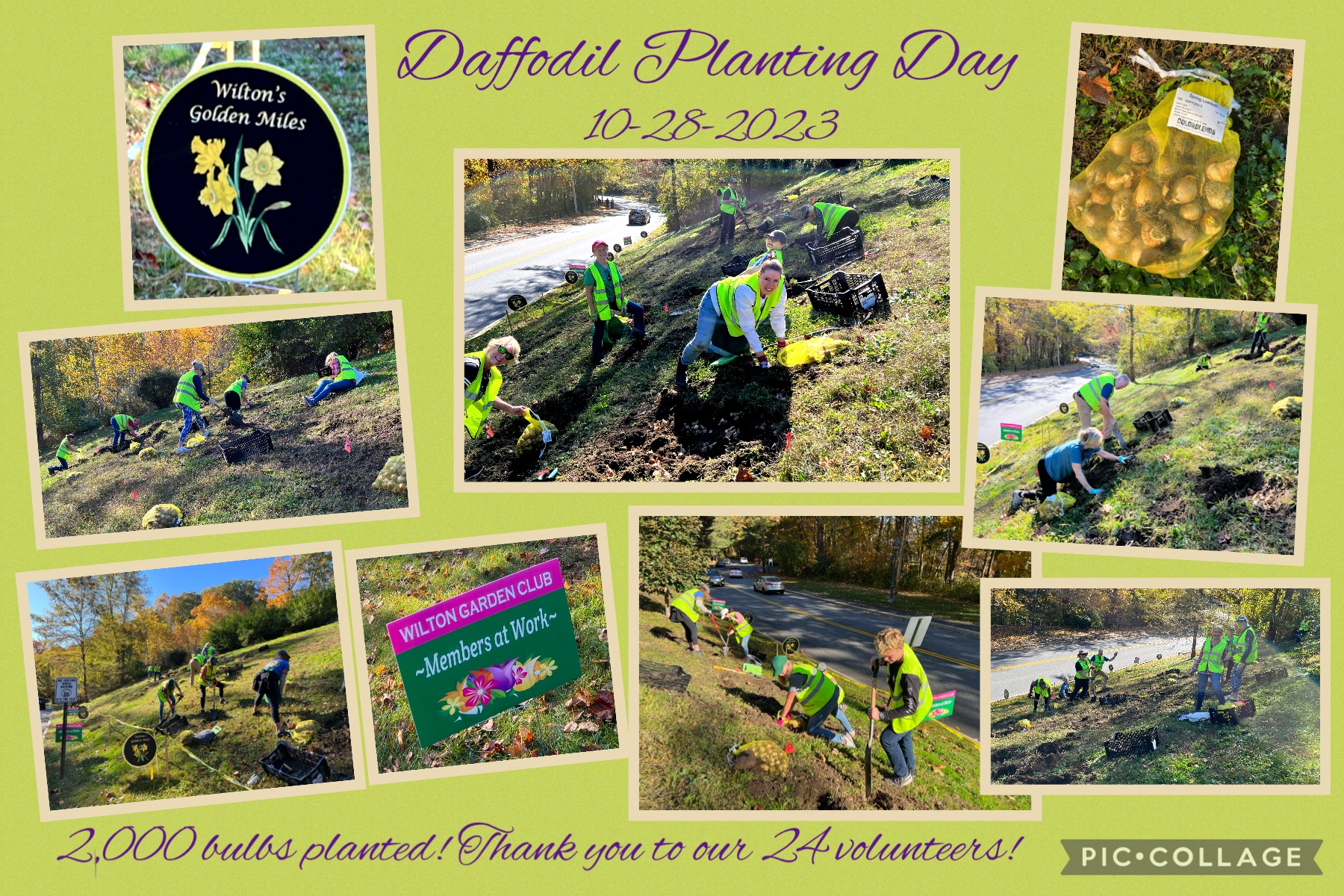 Thank you to all the Wilton Garden Club volunteers, along with friends and family, who battled the challenging terrain and planted 2,500 daffodil bulbs along River Road, on the hillside of the Glen River Condominium complex on October 28th.  Only 2,000 more bulbs to plant next fall to reach our goal of 15,000 bulbs planted!  Read all about Wilton's Golden Mile Initiative
here
.

Congratulations to our WGC members who received awards from the Federated Garden Club of Connecticut at the annual awards meeting on October 25th, 2023! 
The following members received awards:  Tribute Award in Conservation:  Jackie Algon, Tribute award in Garden Therapy: Mary Otocka, Good Deed Citation:  Maya Rorigues and Dana Wolfson, Club Certificates of Appreciation:  Erica Buse and Kathy Rosenbaum, Club Certificate of Achievement – Environmental Concerns: Wayne and Anne Guru, and the Luckner Club Certificates of Achievement (Youth): Laurie Musilli and Pam Nobumoto.  For more information on awards received, click here.
Members Only Event Calendar:
2023-2024 Monthly Meetings at 11:30 am, Pilgrim Hall (Wilton Congregational Church)

Our complete program schedule for 2023/24 can be found here
2023/24 General Meeting Schedule:
September 11th
October 16th
November 13th
December 11th
January 8th
February 12th
March 11th
April 8th
May 20nd
June 4th– Annual Awards Luncheon
Click on the button below to view our members activity calendar
WGC Philanthropy Committee members "give back  $6900" to many Wilton organizations.  Shoppers at the plant sale can feel good knowing that a large percentage of profits from the sale support many local organizations: the Norwalk River Valley Trail, Norwalk River Watershed Association, Wilton Land Conservation Trust, Wilton Library, Wilton Historical Society, and the Save the Sound Merwin Meadows Dana Dam Project. Town beautification projects like planting daffodils, the summer lamppost hanging baskets and winter snowflakes, and the town's seven gardens maintained by the Garden Club are on this list as well.