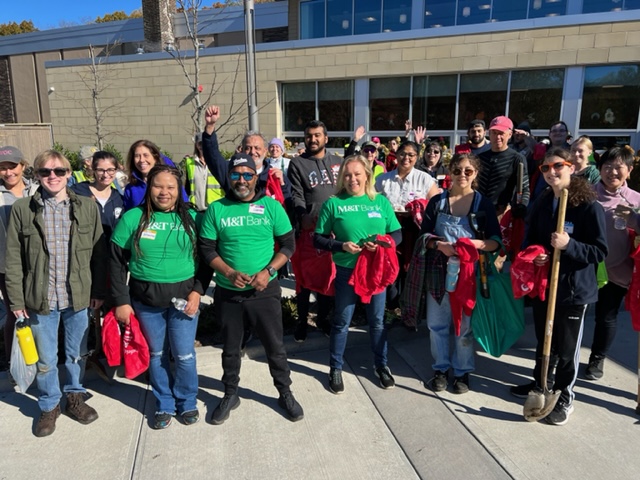 THANK YOU TO ALL OUR AMAZING VOLUNTEERS!
As part of the club's
Golden Miles program
, 
4,000
daffodil bulbs were planted on Saturday, October 29th at Wilton's YMCA in honor of its 50th anniversary!!  Over 60 Volunteers participated in this community wide event, including representatives from the
YMCA
, the
 Wilton Garden Club, ASML
, the
 Wilton Kiwanis Club
, and
M&T Bank
. Special thanks to the Kiwanis Club for their very generous donation to the Wilton Garden Club to help defray much of the expense of the daffodil purchase.  Thanks also to Garden Club members
 Nancy Greeley
 and 
Suzanne Knutson
whose planning, leadership, and organization made the day easy and fun!  Read all about this event
here.
For more information about Wilton's Golden Miles
click here
WGC Philanthropy Committee members "give back  $6900" to many Wilton organizations.  Shoppers at the plant sale can feel good knowing that a large percentage of profits from the sale support many local organizations: the Norwalk River Valley Trail, Norwalk River Watershed Association, Wilton Land Conservation Trust, Wilton Library, Wilton Historical Society, and the Save the Sound Merwin Meadows Dana Dam Project. Town beautification projects like planting daffodils, the summer lamppost hanging baskets and winter snowflakes, and the town's seven gardens maintained by the Garden Club are on this list as well.
Members Only Event Calendar:
2022-2023 Monthly Meetings at 11:30 am, Pilgrim Hall (Wilton Congregational Church)

For the complete 2022/23 program schedule please click here
2022/23 General Meeting Schedule:
September 12th
October 17th
November 14th
December 12th
January 9th
February 13th
March 6th
April 17th
May 22nd
June 6th– Annual Awards Luncheon
Click on the button below to view our members activity calendar
WGC Celebrates it's 101st Anniversary
Members and their families of the Wilton Garden Club gathered on Sunday, October 15th, to celebrate the 101st anniversary of the club at the Carriage Barn at Ambler Farm!    Read all about this fun and momentous occasion here.  
Many thanks to the Wilton Kiwanis Club for their very generous donation in support of Wilton's Golden Miles program! The Kiwanis Club has supported this initiative from its onset in 2020.  Thank you Wilton Kiwanis Club for supporting our efforts to help beautify our town and for all that you do to make Wilton a better place!